Free return
Sellers who offer a "Free Refund" service will have a "Free Refund" icon on the item details page. With the "Free return" service, you have 15 days (excluding the early delivery date) to decide if you want an item from retained or returned for any reason, as long as it is unused, unwashed and in its original condition. - complete with original packaging, tags, etc. It's easy and fast:
1. Simple
Return items locally and easily:
Get a return code or label
Wait for a door-to-door pick-up service or take the package to a designated service point
Finally, wait for the local warehouse to acknowledge receipt of your returned package
Be sure to select "Return goods" when opening a dispute.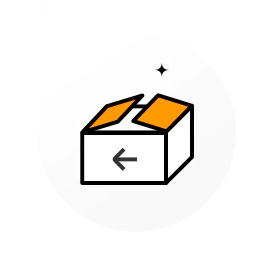 2. Fast
Your money will be refunded when we confirm receipt of your returned shipment, which qualifies for a refund.
Items will be processed at your local warehouse, instead of being sent back to the seller's country of origin (e.g. China).
3. Scope of service
Not all countries have a free return service. Currently supported countries include the mainland territories of the USA, Canada, Australia, The United Kingdom, France, Spain, Germany, Russia, South Korea, Saudi Arabia, the United Arab Emirates, Italy, Holland, Poland, Brazil and Israel.
4. Shipment return fee
Return of packages through a designated local return service or pick-up service from house to house is free.
You can only use a one-time free local refund per order. If you submit multiple refund requests within an order, You can use the free local refund service only once, and other refund requests can continue to use the local return service. but you will need to pay the return shipping to the designated local return address. Therefore, consider joint product returns, to avoid paying additional shipping costs.